Starting out Sweet 16th Season!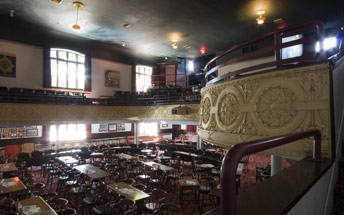 Miz Kitty's Parlour will now again be performed in the historic Mission Theater at 1624 N.W. Glisan in Portland, Oregon, a lovely old theater built in the 1890's! Check the venue page for details and directions.
The shows have returned to a monthly schedule with shows from October 2017 to April 2018

Keep your eyes on the website and sign up on the mailing list for information about future shows.
Taking the 21st century audience into the realm of the Alaskan Gold Rush, genuine Vaudeville acts and Music in the spirit of true Americana, Lisa Marsicek aka Miz Kitty will again be your seasoned and spirited guide for a night you will never forget!
| | |
| --- | --- |
| Lisa Marsicek aka Miz Kitty | |
| | |
Every show will bring bits, schtick and musical acts bound to astound, astonish and thrill you! Song & dance, comedy & theatrics, string bands, classical & eclectic; the outrageous & the delightful variety of acts combine to tickle and entertain.
Lisa Marsicek has been entertaining Portland audiences as the singing, clog dancing fiddler in the popular Flat Mountain Girls stringband for several years. She also played fiddle with the Sassparilla Jug Band. Her Victrola & 78 RPM record collections have also been featured in the Portland Tribune.
Go to Top
Go to Start Page
This site is viewed by an average of 1,000 unique visitors/month